*April 13th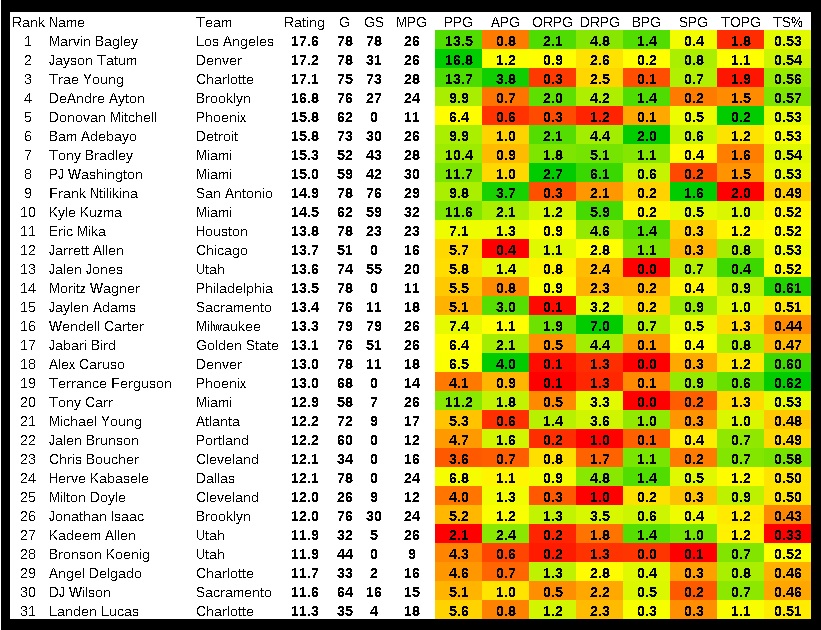 1-4 The rookie of the year candidates. Bagley leads, but its close and voting could go for any of bagley, Tatum, Young, and Ayton. Ayton with only 24 minutes would be a long shot to win ROY. If you go by the NBA's way of determining ROY (adding up all counting stats. Lazy MFers) Bagley would lead with 23.1 tatum 2nd with 22.5 and Washington 3rd with 22.4
5. Mitchell sits 5th with only 11 minutes per game. The ladder tries to determine a players rank despite the number of minutes played, so in theory if Mitchell played 30 min/game he'd still sit 5th. However in practice playing only 11 minutes leads to a lot of variance so it is a mystery where Mitchell wouldve ended up if he played 28-30 minutes.
6-8. 6, 7, and 8 are 3 reliable and boring bigmen.
9. Frank Nico sits 9th. He had a rough start in the high pace high zone system, but San Antonio recently went away from those strats and Frank has made some major jumps up the ranks.