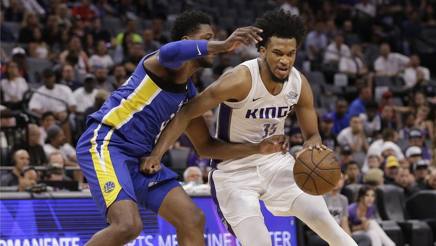 Its been downhill for the Lakers ever since the legendary GM Jestor retired. With no other options, the Lakers turned to unsigned free agent GM Andrei who has been out of GMship since moving on from his long time position with the Memphis Grizzlies.
I think the team is certainly better than its record suggests. Bagley needs to be unleashed and become a 25/12 beast we all know he should be. He is the centre of the Lakers galaxy and everything else spins around him. If somebody is not working out, they're gone - no conversation there. I do feel our trio of Bagley, Diallo and Vonleh is a good combination upfront. So I'm excited to see what we can do there.

At guard, its Payne and Russell this year. Ever since he entered CSL draft, I considered DeAngelo a Goran Dragic type of a player. Dragic in his prime was All-Star starter type of a player and I think Russell can be in the same conversation. Payne is steady on offense and All-CSL on defense - we're very lucky to have him here in LA.
Key thing to address: when your best SF is Bruno Caboclo, you have a problem. Bruno has established himself as a decent scorer off the bench, but not a starter in CSL. We have some rookies with potential but nobody who deserves to start regularly in CSL. We need to address this gap in the offseason. Perhaps through the draft.
On a personal note: One lazy day in August I decided to give NFL a try - I've been hooked ever since. Its so good, so very very good. I had to pick a team to follow and figured, since I work for Microsoft and fly to Seattle a few times a year.... go Seahawks!!!