Warriors Moving into the Dark
The much talked about meeting between General Manager Cyrisnyte and remaining superstar Kevin Durant took place today. It comes as no surprise to anyone with the announcement that Kevin Durant has demanded a trade from the Golden State Warriors. GM Cyrisnyte and Kevin Durant had a meeting which lasted just over 30 minutes today and then both parties took to their own ways of talking about the meeting.
General Manager Cyrisnyte had lined up a press conference and had the following to say.
General Manager Cyrisnyte,

"As you all are aware, I just finished a meeting with Kevin Durant about the state of the team here within the Warriors organization. We spoke openly about the situation in regards to James Harden choosing to go back to his former team and where that put the Warriors now. I can say that the meeting was mostly productive but we had very different views on what a commitment comes down to.

Kevin has demanded a trade from the organization as he feels we were not able to live up to our word by not actually resigning James Harden. I tried to explain we did everything within our power to get him to stay here in Oakland but he said the fact is, he's not here. When we spoke about the contract he was committed to, he simply said he will sit out if not moved.

We will now be engaged in trade talks with all teams we feel can offer a package which will put us in a position to be competitive in the near future. At this point, we will sit down with PJ Dozier and express to him the desire to build a team around him and his all around ability.

We will be active in giving the Warriors fan's a team they can support. I understand the level of frustration for Warriors fans as they were looking forward to an improved season. We ask they have realistic expectations as we try to react and figure out what will be best course of action for the organization."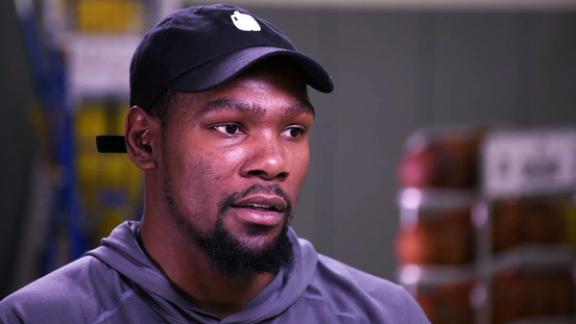 Claims he will sit out entire season if he has to
Kevin Durant seems to have made up his mind he will not play for the Warriors again. While leaving the building he was asked what had happened in his meeting with GM Cyrisnyte and he simply said, "I'm outta here, look for my Instagram post shortly." Kevin Durant is known to be a huge user of social media, so it comes as no shock that shortly after he left the facilities of the Warriors, the following post was put up by Kevin Durant.
The Instagram post would have one believe that Kevin Durant has already been moved. Our insiders say that the Warriors had just learned of the post and that GM Cyrisnyte was furious. How this will effect any trade talks is unknown but one can assume at this point that this will begin a complete dismantlement of the Warriors team as we know it now.